Shipping
The estimated delivery date will be based on a few different factors, including the purchase date (when an order was placed), destination (the customer address), and shipping method (e.g. UPS Ground, FedEx 2-Day Air). Other factors - such as federal holidays and inclement weather – may also impact the transit time of your order.
After an order is placed, you can expect to receive a few different updates:
When Italic has received the order
When the order ships
When the order is out for delivery
Once an order has been shipped, you may track your shipment(s) on the Italic tracking page.
Orders are processed within 1-2 business days. For non-members, orders with a value equal to or greater than $50 will receive free shipping. Members receive free shipping on all purchases, regardless of order value.
If you have placed an order and have not received any updates, or 5 days has passed since your order date, please let us know. Our Customer Experience team will be happy to help!
Note: Please be aware that orders containing multiple products may be shipped in more than 1 shipment. You can see the estimated delivery for each of your items on the cart page, like this: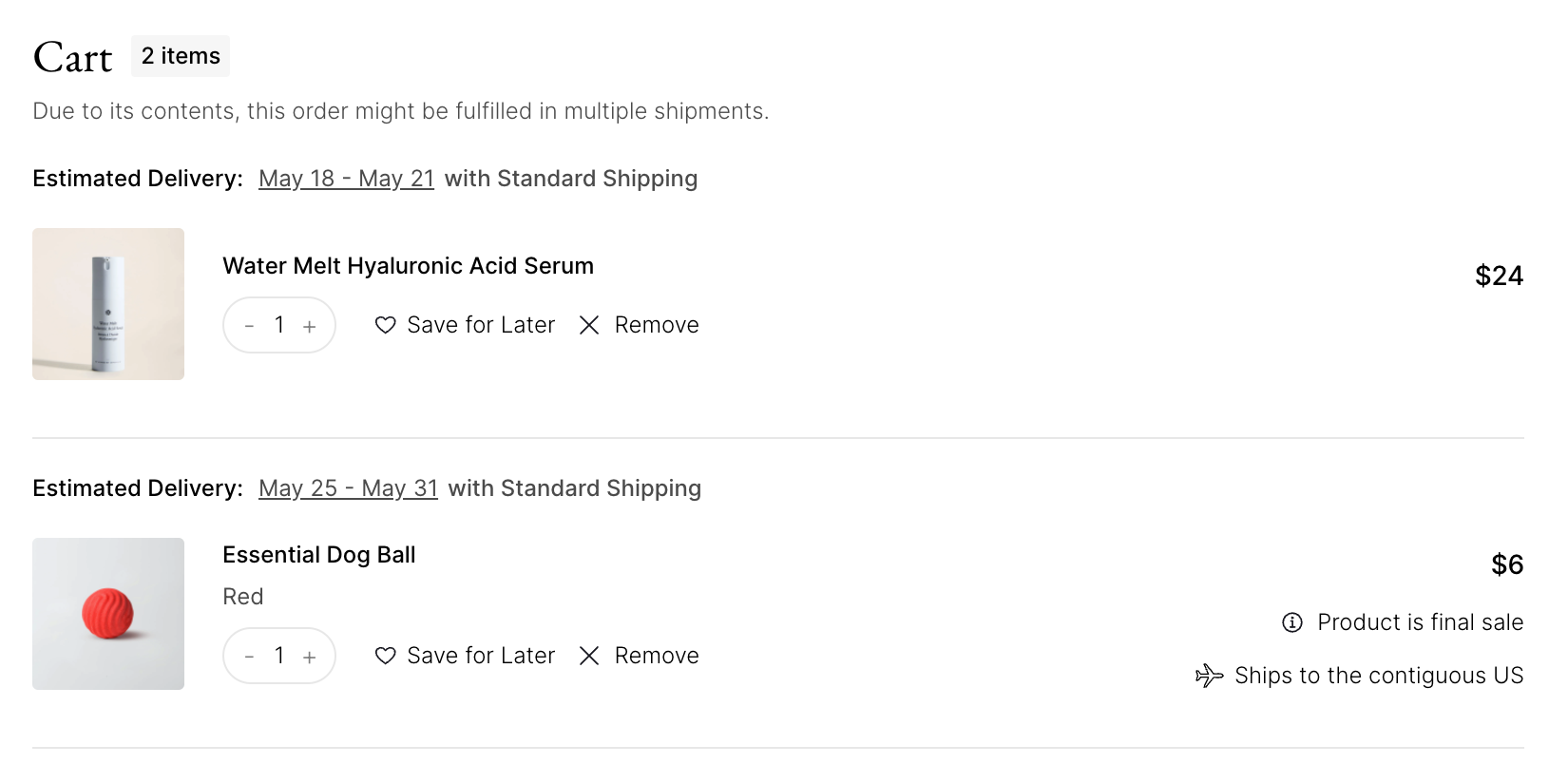 Returns
Italic accepts returns of unworn, unwashed, and undamaged merchandise (with the exception of cosmetics, swimwear, and candles) for refund within 30 days of receiving the original purchase. Any custom or personalized products cannot be returned. All returns of IGI certified jewelry must include the certification information.
Refunds can be made in the form of the original payment method or store credit! We'll take care of the return shipping, and send you a prepaid UPS shipping label.
Requests to refund merchandise received as a gift must be accompanied by a gift receipt and will be issued as store credit.
To start a return, please go here.
We reserve the right to reject returns upon careful inspection of merchandise. All items must be returned in as-new condition with original tags attached and in original packaging. We may reject the returned product if we determine there is damage to the product (for example, stains, holes, etc.) or product packaging, should it be determined that damage has occurred outside of transit or manufacturing through Italic's inspection procedures. If returned merchandise is deemed unfit for return, you will be notified that the return cannot be completed and you will be given the option to have the item shipped back. Italic closely monitors the history of returns for every customer to ensure fair use of the policy.